EXCLUSIVE: During Day One of edie Live 2019, a panel of expert speakers gave their top tips for businesses looking to "ride this green wave" and become more resilient climate leaders during an era of unprecedented public awareness.
As evidenced by both Extinction Rebellion and the continuous climate youth strikes taking place across the world, climate change is now front and central to societal demand. These protestors and the general public also form the majority of corporate consumer bases and evidence suggests that companies would do well to appease concerns. Indeed, a recent survey of 2,000 UK consumers by Barclays found that more than half are now striving to minimise their personal carbon footprint, with 445% only seeking products or services from businesses that have a good track record when it comes to climate change.
This change in consumer, investor and policymaker awareness of – or emotional investment in– the climate cause presents a new raft of challenges (reaching net-zero by 2050, for example) and opportunities (such as innovating to launch new low-carbon or closed-loop products and services) to businesses of all sizes and in all sectors.
During the first session at the Sustainability Keynote Theatre at edie Live this morning (May 21), an expert panel of speakers therefore discussed how, exactly, businesses should now adapt their strategies to become resilient leaders in the transition to a net-zero world, maintaining the trust of key stakeholders as they go beyond decoupling emissions from growth.
The panel, entitled "Britain's green future: The business context", heard from renowned environmental broadcaster and columnist Lucy Siegle; WSP's UK director of sustainability David Symons; The Climate Group's director of corporate partnerships Mike Pierce and Green Alliance's strategy director Belinda Gordon.
Here, edie rounds up their key takeaways…
1) Be radical and avoid greenwash
In the digital age, where everyone has access to a wealth of information at the click of a button, stakeholders of all kinds are taking all grand claims with a healthy dose of scepticism – and claims about corporate progress on sustainability is not exempt.
Consumers are now "acutely" aware that, for every genuine act of business altruism, there's a claim that doesn't quite match up to the reality, Siegle told delegates, as she urged them to adopt "radical candour". 
"Do not decouple sustainability from your core model," she said. "Pretending to support the revolution when you are part of the establishment will get you called out."
2) Mind your language
Citing the fact that The Guardian recently updated its style guide on environmental issues, encouraging writers to use "climate denier" instead of "climate science skeptic" and "global heating" or "climate crisis" instead of climate change,  Siegle went on to emphasise the importance of strong communications in sustainability leadership.
"People don't want to see language that minimises the state of the emergency that we're in," she explained. "Hardline talk will get you far. A tougher, more concise version of the language that we use around sustainability is very important going forward".
3) Don't fall back on "convenient defences"
Siegel urged corporates across all sectors to avoid taking lines of thought that would prohibit green ambitions becoming realised as actions due to convenience, asking them instead to view change as an opportunity.
Specifically, she cited the retail and packaging industries' traditional line of reasoning that customers expect their goods in plastic. Indeed, recent research has suggested that sustainable packaging could soon overtake cost as the top concern for British supermarket shoppers.
"Change is knocking on our door," she said. "Time is up for old ways of thinking and dated excuses".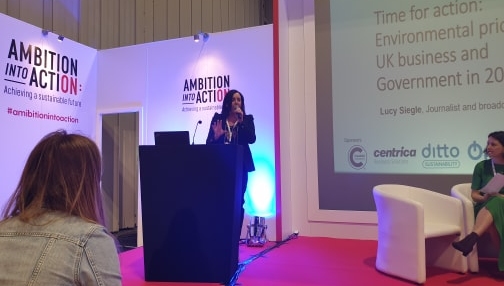 4)  Understand that technology has its limits
As the low-carbon revolution continues to grip several key industries, such as the power and road transport sectors, new technologies which could help businesses, nations and local authorities dramatically decarbonise their operations are emerging at a pace – from carbon capture and storage (CCS) to hydrogen fuels.
Siegle argued that, while it may be tempting to rely on these technologies as a "holy grail", businesses should also look beyond carbon to systems and concepts which also champion social sustainability.
"Yes, decarbonisation is a priority – but we need to think about the form and the agenda it takes," she said. "We have got other issues, and solving them will take a tremendous shift in ethics and priorities. Millennials and members of Gen-Z attach particular importance to social activism – it's a different mindset, and we are going to need to actively display that we are taking it very seriously."
5) Think outside the "green growth" box
Continuing her presentation, Siegle called the issue of volume "the elephant in the room" and argued that consumers will no longer side with businesses which are always expanding and selling more virgin products, even if they publicly commit to "clean or green" growth.
She cited the examples of the fashion industry – which is now churning out more than 100 billion new garments and 20 billion new pairs of shoes annually – and the packaging sector, as laggards in this space.
"Let the dominant narrative of green growth go," she said. "This is really tough, but it, in itself, is not going to be the answer. Volume is the word that retailers and brands are being pushed to disclose and discuss."
6) Manage your transitions to avoid unintended consequences
Siegle lastly called on delegates to beware of undertaking "well-meaning" activities with "unintended consequences" in either the environmental or social space.
She said: "Managing a steam train more efficiently doesn't mean that we use any less coal – we find a way to propagate the same behaviour somewhere else, and that's the nut we have to crack. We need radical thinking and systems change."
7) Don't be afraid to start small
Citing the example of his company's "Future Ready" campaign, which encourages all staff to collaboratively develop projects which will be resilient for at least 70 years, WSP's UK director of sustainability David Symons encouraged attendees "not to be afraid" of starting with a small action.
The project began as a UK-only initiative with "minimal" financial support – but has now become "business as usual" across all of the company's main global markets, with more set to be added by the end of 2019.
"Business is absolutely critical to delivering against #sustainability challenges" @DavidSymons from @wsp at #EdieLive2019 today @edie @edielive pic.twitter.com/DTx6BgSjSP


— ISS Waste (@ISSwaste) May 21, 2019
8) Embed sustainability in your core products or services
Speaking to those representing companies which had not yet taken ambitious action because they weren't sure where to start, Symonds suggested that they should begin with the organisation's core products and services – either in terms of what it sells most of, what it is best known for, or what it was founded to deliver.
"This will enable you to determine where to set targets and pave the way for recognition through initiatives such as science-based targets, as well as credibility with stakeholders," he said.
9) Inspire everyone to take part
Symons championed the need for businesses to remove sustainability from its historical "silo", and to use the momentum and debate created by recent climate actions to "empower" staff through collaborative green action – no matter how small. 
"Getting outside of the sustainability bubble and uniting everybody to take action can have huge positive impacts," he explained. "We are going up to all of our 48,000 people and liberating and challenging them by asking how they, in their remit, can make a difference. That has a tremendous impact."
10) Translate the green conversation
"I've found that innovation is sometimes a more strong and business-friendly word than innovation," Symons continued, explaining how he secured boardroom and investor buy-in in the past.
"While we can absolutely use the term 'sustainability' within our own profession, this will never be a sustainability programme to my business directors – it is an innovation and transformation opportunity."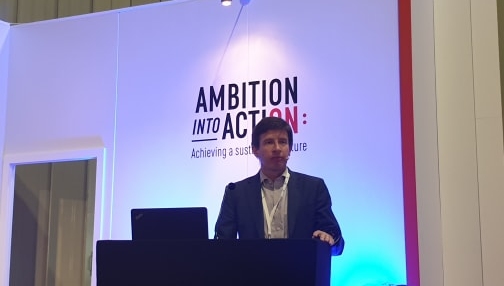 11) Make bold commitments and bolster them if you can
The Climate Group's Pierce began his part of the discussion by asking what businesses could do to deliver on the demands of climate action protest group Extinction Rebellion, which is urging corporates from all sectors – as well as national governments – to "tell the truth and act like it is real".
His first piece of advice for organisations looking to meet this demand while maintaining profitability was to adopt 100% or "all-in" targets around areas such as clean power and green fleets, in order to lead by example and show stakeholders they were making climate a priority.
"If companies have set a 2030 target, they need to be prepared to be asked if they can move it forward to 2027 or 2025," he elaborated. "Those are important conversations, both for the companies and the citizens. Companies must challenge themselves to go further and faster."
12) Invest in actions with multiple impacts
While the cost of technologies such as renewable power generation arrays, battery storage and electric vehicles (EVs) is falling, Pierce acknowledged that some sustainability or energy professionals may still be struggling to align green actions with cost savings.
In this case, he advised them to "look for action that cuts across different part of a business's impact".
"Ideally, we are looking for sustainability to have a much more strategic position in the company, so all areas of the business are working together on any campaign."
13) Go beyond your organisation's boundaries
At the conclusion of his talk, Pierce argued that "getting your house in order" should only be the start of action for any company – particularly those with value chains or clients with larger climate impacts than their direct operations. 
"How we get to the hundreds of thousands of companies and billions of citizens across the world is more important than talking about one group of around 175 businesses are doing," he said. "That way, step changes in the ways we live our lives, the way we consume products and use services, will come about that much faster."
Sarah George