As businesses start to redefine their role in society, purpose has become an essential part of any company's social licence to operate. Here, edie rounds up seven top tips from green economy leaders on finding and communicating your organisation's reason for being.
In an age of digitisation, when anyone can find out information about your organisation's social and environmental credentials at the click of a button, purpose has evolved from a "nice-to-have" to a key driver of business success. Nike, for example, saw its sales grow by a third after launching its 2018 advertising campaign against racially driven police brutality, while Pepsi's fell after it appropriated imagery from the Black Lives Matter protests in a thinly veiled attempt to sell soft drinks.
The concept of purpose has been championed by the likes of Unilever's former chief executive Paul Polman, who has urged companies to move past having a CSR department to becoming purpose-led 'RSCs' – responsible, social corporations – as well as countless other green economy experts such as Ikea's former CSO Steve Howard. The benefits of this approach are proven; a study of 474 executives by EY and Harvard University found that firms which clearly articulated and understood their purpose experienced larger revenue growth between 2014 and 2017 than those that did not. 
Nonetheless, the task of finding, embedding and communicating your purpose is generally easier said than done. In the same PwC study, only 34% of respondents said they used their organisation's values as a guidepost for decision-making. In the Harvard and EY survey, just 46% said their organisation had a strong and shared sense of purpose in the first instance.
With this in mind, a panel of expert speakers representing IBM, Kingfisher, AB InBev, the Sustainable Restaurants Association (SRA) and Carbon Credentials came together to discuss the importance of finding and communicating business purpose at edie's ENGAGE conference in London on Thursday (2 May), giving delegates practical advice on how to align sustainability and profitability through authentic communications.
Here, we round up seven of their key takeaways from the first session of the two-day conference, which was aptly titled "why do you exist?".
1) Ensure that your board and colleagues know that purpose is profitable
The session began with a rousing talk from IBM Global Markets' vice president for marketing Caroline Taylor, who explained that purpose, in an age of market saturation, is now a key differentiator for profits – and not, as it has historically been viewed, incompatible with financial success.
She discussed how her company's success in winning big contracts over larger competitors has been, in many cases over the past decade, down to its ability to prove the low-carbon credentials of its services.
"We serve our interests best when we serve the interests of the public – this is not about purpose before profit, but about purpose actually driving profit and both forming part of your mission," Taylor said. "Authentic purpose is balanced across the economy, environment and society and is not at odds with the former."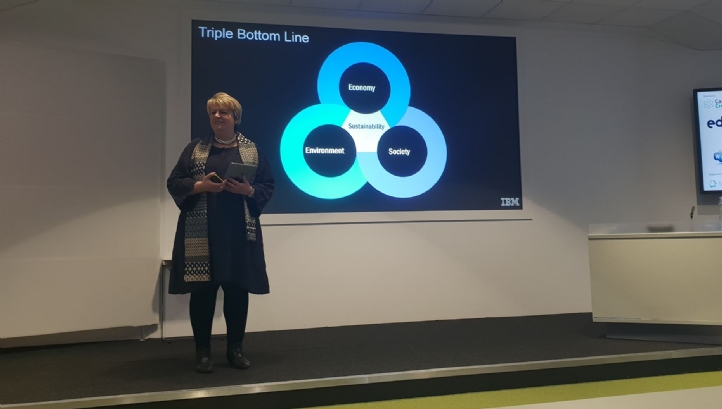 2) Question your existence to narrow down your purpose
Giving her advice for businesses looking to align purpose with profit, Taylor urged delegates to ask four key questions of their organisation: why customers should choose it; why people should work for it; why investors should fund it and why society should allow it to operate.
By doing this, she argued, organisations can leverage their existing and "organic" corporate culture to engage stakeholders across the board, who might otherwise see through "phoney sentiments of culture that a consultancy has dreamed up".
3) Know that putting your purpose 'on the wall' isn't necessarily a bad thing
During the discussion, panellists unanimously warned against the act of placing a non-authentic vision statement on posters and in reports without taking any tangible action to achieve it, arguing that doing so would breed resentment and result in a loss of trust.
But brewer Anheuser-Busch InBev (Ab InBev's) global director of sustainability investments and accelerator Maisie Devine argued that placing a vision statement "on the wall", so long as it is authentic, can actually create accountability and breed ambition.
She explained that since the latter half of the brewer's tagline – "the best beer company in the world, bringing people together for a better world" – was added a decade ago, the company has permitted itself to set "much more aggressive" sustainability goals.
4) Align your commitments with your purpose to record progress you'll be proud to shout about…
"If the purpose is the 'why', then commitments are the eminence and the action – the 'what' and the 'how' that drive it forward," Carbon Credentials' chief executive Paul Lewis told delegates, arguing the business case for setting time-bound numerical targets.
Specifically, he pointed out that setting clear and ambitious aims was an obvious way of driving progress beyond incremental improvements and signalling to stakeholders that organisations take their responsibilities as corporate citizens seriously.
The SRA's development director Juliane Cailloutte-Noble agreed, explaining that hospitality businesses tend to celebrate results without setting commitments, therefore marking minor improvements as huge successes.
"What we've found is that the progress they are shouting about is nowhere near large or rapid enough to make a dent in the scale of global problems," she said. "By publishing a target in line with the recommendations of a body like WRAP, meaningful results can be created."
We're here at the edie engage event today speaking about sustainability commitment and purpose.

"If purpose is the why, then commitment is the what and how you achieve that purpose" – Paul Lewis, CEO of Carbon Credentials @edieconference @edie pic.twitter.com/4cG8xgyFVc


— Carbon Credentials (@CCESltd) May 2, 2019
5) … and make pledges public to ensure accountability
When asked by Lewis how her company went about communicating its pledges, Kingfisher's head of sustainability Caroline Laurie said she was more concerned with "setting them in stone as soon as possible" than fearing negative comments. This, she said, helped to foster positive discussions which she uses to build the business case for further action.
"Getting bold goals printed, put on our website and put into our reports helps to make them non-negotiable," Laurie said.
"By signing up to big commitments publicly, we then have investors asking us about them, meaning I can then take this back to the board and convince them that they need to value sustainability in the way that our investors do."
6) Engage your employees with your vision
IBM's Taylor claimed that many organisations are so tempted to set out a large marketing budget for purpose-led communications when they are undergoing a business transformation that they forget to leverage the "authentic face" of their operations – their staff – to communicate their vision.
"Your employees are a massive benefit; all the things you're succeeding in, they will amplify," she explained. "You can't hide what's real from them, so those who listen will know their message is credible."
These comments echo the findings of a recent survey of 2,000 managers by YouGov, which found that 81% of respondents working in purpose-led firms say more positive than negative things about their employer, compared with just 40% of those working at companies without a clear purpose.
7) Don't let perfect become the enemy of good
When asked to discuss the challenges stopping organisations from setting purpose-led goals, the panellists agreed that fear of backlash for failing to meet them was a key factor.
They cited the example of supermarket Iceland, which came under fire for failing to remove palm oil from 100% of its own-brand products by the end of 2018 and, instead of sharing their reasons for missing the deadline, simply re-labelled several lines.
According to Ab InBev's Devine, "radical honesty" may be key to overcoming this fear and winning over a generation of consumers who are highly attuned to greenwashing and increasingly choosing businesses based on their sustainability credentials.
"I think we need to get to a place where we can say 'these are our good, bold goals. If we can't meet them, we won't be afraid to admit it and ask for help'," she said.
"I think that the public in some ways, particularly the younger millennial demographic, is a little more forgiving of progress. Ten years ago, the consensus was that you couldn't announce progress until it was complete, which is where the dialogue is changing."
Sarah George