Every week, numerous eye-catching and potentially transformational innovations are being developed to help businesses and nations turn their green ambitions into actions. Here, we round up six of the best.
It's been a monumental week for green campaigners and sustainable business leaders here in the UK, with Prime Minister Theresa May having announced on Tuesday (11 June) that the Government will amend the Climate Change Act in order to set a new net-zero target for 2050.
While some of the moves which the Committee on Climate Change (CCC) has said are necessary to meet this target – from rewilding to boosting electric vehicle (EV) sales – rely on proven methods and technologies, innovations which are still in the early phases of development are also likely to play a key role.
Moreover, the challenge at hand involves not only decarbonising the national economy entirely but doing so in a way which champions social sustainability, does not have unintended consequences in other areas of environmental stewardship and maintains economic stability.
Indeed, there has arguably never been a clearer policy incentive for green innovation in the UK. Here, edie rounds up six new products, concepts and systems which could help businesses and nations deliver a low-carbon, resource-efficient and more socially equal future.
Michelin's 'airless' tyres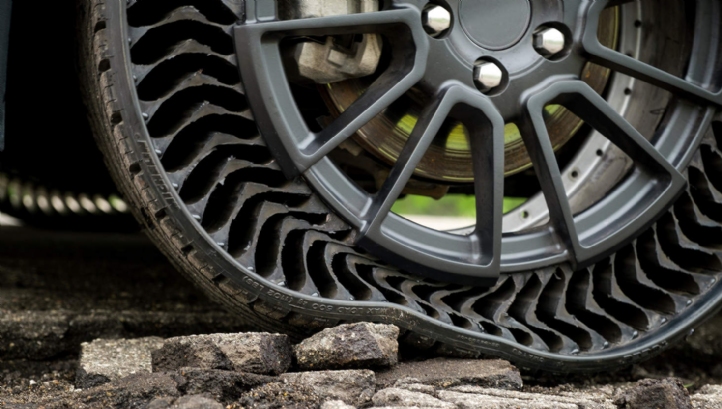 Most advice on improving the fuel efficiency of vehicles will mention how important it is to ensure they are inflated to an ideal pressure. This is because tyre rolling accounts for around 15% of the average car's fuel consumption.
But Michelin this week turned that idea on its head, publishing a prototype for a generation of "airless" tyres. Called Uptis and developed as part of a collaboration with General Motors, the tyres are designed specifically for fully electric cars, which are typically narrower and taller than petrol or diesel-fueled models, and therefore have different weight distribution. The idea behind the tyres is that they use less rubber and other raw materials to make, and are also immune to popping – which extends their lifespan – while having equivalent load-bearing properties to their predecessors.
Michelin estimates that 200 million tyres are sent to landfill or incineration globally every year because they pop, meaning that the circular economy benefits of the innovation could be significant if it is implemented at scale. The company will undertake the first real-world tests of the Uptis tyres at General Motors' Michigan facility later this summer and intends to bring versions for smaller vehicles to market in 2024.
Tarmac's closed-loop asphalt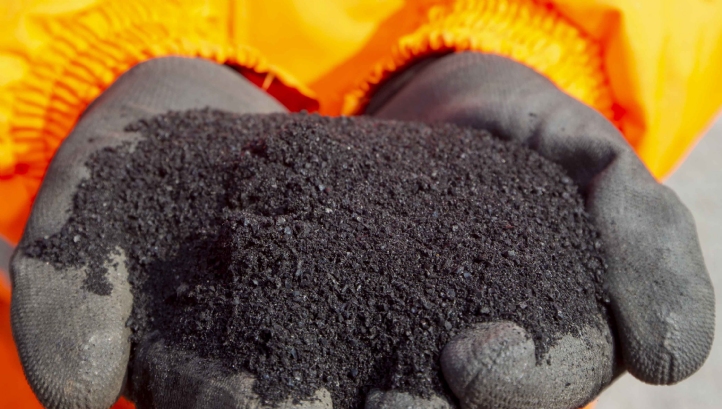 Staying on the subject of tyres and honing in a little, the UK's tyre waste footprint is widely estimated to stand at around 40 million tonnes each year. This waste stream is hard to recycle and is also believed to be one of the developed world's biggest sources of microplastic pollution, along with synthetic textiles. To that end, the UK Government is currently mulling over a new Extended Producer Responsibility (EPR) framework for tyre manufacturers in its Resources and Waste Strategy consultations.
Another potential solution to this waste challenge comes from Tarmac, which this month revealed it has developed a new asphalt technology capable of recycling end-of-life tyres into road coatings. The system breaks tyres down into two kinds of small particles called ground tyre rubber and crumb rubber modifier, which are then mixed with hot paving grade asphalt to modify its composition.
Tarmac claims that every kilometre of road surfaced with the innovative material would divert 750 tyres from landfill or incineration. It is currently undertaking a string of large-scale, real-world trials of the material, with one of the most recent applications having been made in Coventry as part of a deal with Coventry City Council and Balfour Beatty.  
Lightweight V2G chargers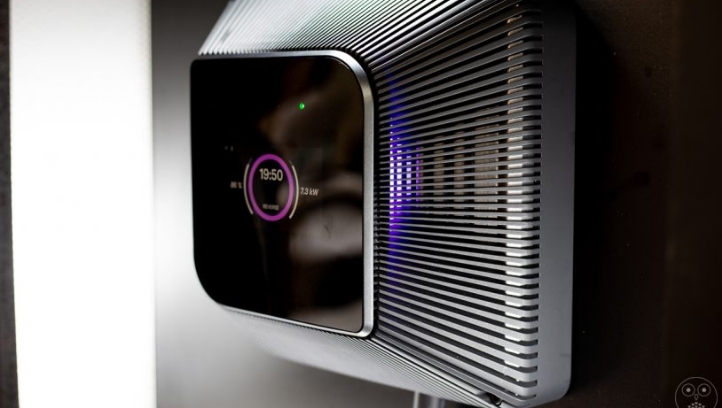 The market for vehicle-to-grid (V2G) technology is still in its relative infancy but is expected to surge by as much as 50% over the next four years, as EV uptake soars and nations look for new ways to bolster their energy grids as more renewable arrays come online.
One solution which seeks to get ahead of that demand curve comes from Octopus Energy's electric vehicles arm and Wallbox, which have jointly developed what they claim is the smallest and lightest V2G charging box in the world. The device uses a silicon carbide inverter to convert power from AC to DC, and vice-versa, at speed. It was developed as part of a collaborative £7m project, part-funded by InnovateUK and delivered in conjunction with UK Power Networks, Open Energi, Chargepoint services, Navigant and the Energy Saving Trust.
The first batch of the chargers is due to be installed during August, with more than 400 people having already pre-ordered a unit from Octopus. They will be delivered to customers as part of the utility's 'Powerloop Bundle' offer, which also includes the rental of a Nissan Leaf, a smart meter and 100% renewable electricity for the home.
Unilever's 'plastic-free' ice lollies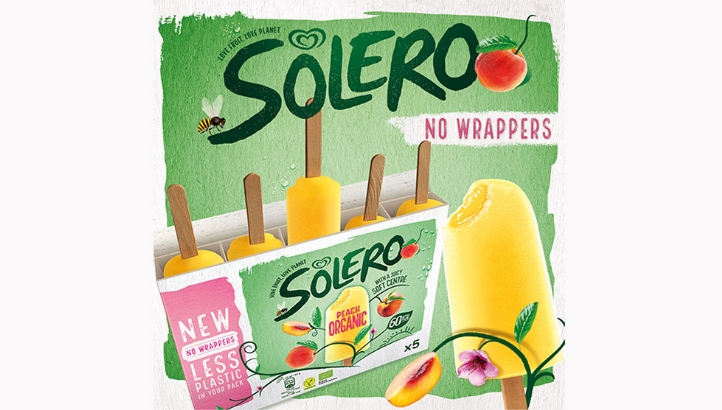 In the same week that the BBC aired its first episode of War on Plastic with High and Anita, highlighting the fact that Brits buy 810,000 tonnes of plastic packaging from supermarkets every year, Unilever has launched its first range of "plastic-free" ice lollies, under its Solero brand.
The innovative packaging, used for five-packs of Solero Organic Peach, has built-in compartments that enable each lolly to be kept separate without a plastic wrapper. In order to minimise packaging damage and leakage, the outer cardboard box is coated in PE. PE-coated cardboard is accepted by most local authorities in kerbside collections.
Solero lollies housed in the new packaging are being sold exclusively through Ocado. Unilever will measure consumer attitudes to the new format in partnership with the online grocer, before deciding whether to apply it permanently to five-packs of Solero Organic Peach at all UK stores and to roll it out to other products.
Post-consumer recycled plastic pouches
As collaborative, commitment-based initiatives such as WRAP's Plastics Pact and the Ellen MacArthur Foundation's New Plastics Economy Commitment continue to spur more ambitious action on plastics from corporates, many businesses in this space are moving to source more post-consumer recycled (PCR) plastic for their packaging, including Coca-Cola, PepsiCo and Procter & Gamble (P&G).
But challenges still remain in sourcing PCR plastic that is of a high enough quality to incorporate into new packaging – an issue which has proven particularly pronounced in the flexible packaging space. In a drive to tackle this, packaging giant Mondi has developed a proof-of-concept prototype flexible plastic pouch incorporating a minimum of 20% mixed PCR plastic taken from household waste, in what it claims is a world first. The origins of the waste used to make the packaging were considered the "worst-case-scenario" for ease of recycling and market value – uncleaned, unprocessed and mixed materials.
Mondi has claimed that the pouch has the strength and integrity of its virgin plastic counterparts. However, making the pouch see-through was not possible due to the mixed colouring of the original PCR waste. It has been designed for household products such as laundry detergent and will soon undergo next-phase testing.
Machine learning for the energy sector
As the fruits of the Fourth Industrial Revolution continue to shape business action, machine learning and artificial intelligence are becoming increasingly popular across the sustainability space – particularly for energy management, with big-name backers including the likes of Google, Anglian Water and United Utilities.  
Building on this progress, energy management firm Kinect Energy Group used its platform at last week's re:MARS conference in Las Vegas to unveil a machine learning model that uses historical pricing and weather data to calculate future energy prices and outputs at renewable energy arrays. The technology uses Amazon's SageMaker DeepAR time-series forecasting model to make its predictions.
Kinect Energy Group claims the innovation could help to increase trading volumes for forward pricing contracts, by providing purchasers with more accurate price predictions. It could also help end-user businesses make the financial business case for switching to clean power, by giving them the option to buy energy from their preferred source when prices are lower.
Sarah George