While many of us in the UK will be enjoying the bank holiday break today (22 April), the global business community has been busy making pledges, events and announcements to mark Earth Day. This round-up highlights some of the best sustainability success stories to mark the occasion.
In this special edition of our weekly Mission Possible round-up, edie charts how businesses and sustainability professionals are working to achieve a more sustainable future across the campaign's five key pillars – energy, resources, mobility, built environment and business leadership – with a focus on the Earth Day announcements you may have missed.
Founded in 1970 after a call to action from peace activist John McConnell one year prior, Earth Day is a key event aimed at uniting humanity in honouring and respecting both nature and the concept of peace. First held in the US, the day is now marked in more than 141 nations across the world and is marked by policymakers, businesses, NGOs, academics and the general public alike.
From a reforestation project which has delivered more than one billion trees, to a fast-food giant's commitment to develop science-based targets against the will of its investors, each of these projects and initiatives demonstrates how businesses are taking action to deliver on Earth Day's overarching aim – to create a more sustainable future.
ENERGY:

UK start-up to create nation's first 'users as co-owners' wind farm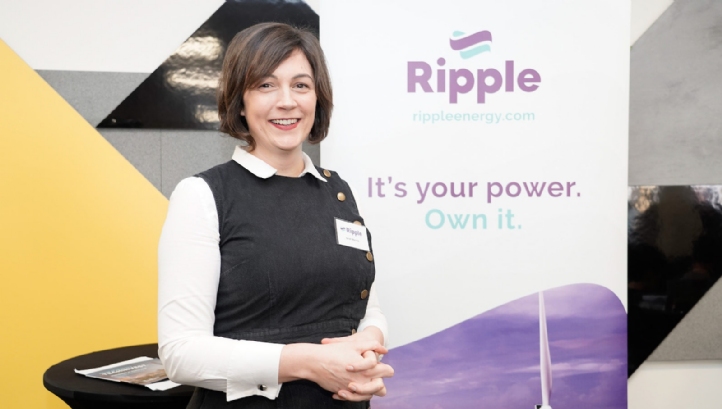 Since the closure of the Feed-In Tariff (FiT) scheme last month, the question of how community groups, individuals and SMEs can build the business case for investing in renewables has weighed heavy on the minds of several green economy experts.
In a bid to overcome these challenges, start-up Ripple Energy has started crowdfunding £750,000 to develop a model in which customers will become both co-owners and energy users of its first wind farm. By donating between £10 and £1m to the initiative, individuals and organisations will collectively receive their proportion of a 23.21% share in the pilot facility, set to come online later this year.
The money will be used to fund the development of the initial wind farm and to market Ripple Energy's first full-scale wind farm, which is due for completion in 2020 and is set to supply 18,000 homes.
"In the future, customers won't need utilities to own wind farms and solar parks on their behalf – with Ripple's help, they will be able to do it themselves," Ripple Energy's founder and chief executive Sarah Merrick said.
In related news….
UK-based energy start-up Limejump has added hydropower to its virtual power plant (VPP) system for the first time, after inking a power purchase agreement (PPA) with the National Trust to source and distribute energy from the 45kW Gelli lago hydro scheme in Snowdonia.
Ground is set to be broken on the world's first large-scale zero-subsidy offshore wind farm this summer, after Vattenfall and Siemens Gamesa reached the final negotiations stage of the project. The facility, called Hollandse Kust Zuid (HKZ) 1&2, is set to come online in 2023 and generate enough energy to serve 1.5 million Dutch homes. 
RESOURCES:

Xerox plants one billion trees through print offsetting scheme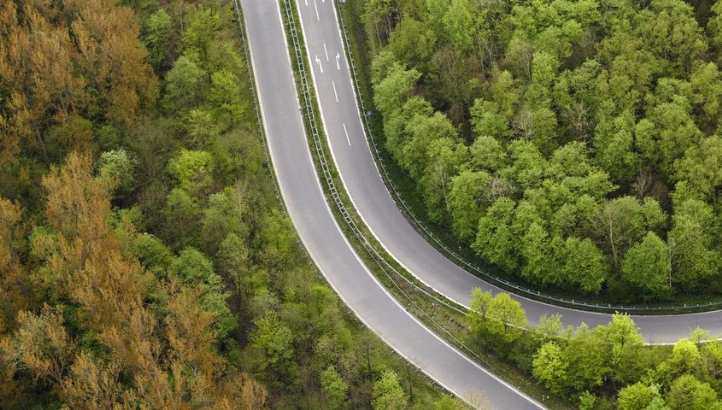 Key players within the paper and printing industries have taken several ambitious actions to eliminate deforestation and champion nature conservation and resource efficiency in recent months, from HP's pledge to deliver "forest-positive" pages by 2020 to Asia Pulp & Paper's alignment with the Sustainable Development Goals (SDGs).
Building on this progress, print and digital document giant Xerox has marked Earth Day by revealing that its PrintReleaf reforestation initiative has delivered more than one billion new trees to date. Under the scheme, paper usage reporting information is sent from printers to Xerox, where staff calculate the number of trees needed to reforest that usage in areas affected by either reforestation or a lack of green spaces and biodiversity.
Of the 1.15 billion trees delivered under the PrintReleaf scheme to date, around 100,000 have been planted in Madagascar, Brazil, India and other tropical forests.
"The worldwide theme for Earth Day is preserving the world's biodiversity – an issue largely stemmed from deteriorating ecosystems," Xerox's vice president for environment, health, safety and sustainability Wendi Latko said.
In related news….
Beer brand Corona has erected a 49-foot long wall made using beach plastic across a stretch of Ipanema Beach in Rio De Janeiro. Developed to promote its partnership with environmental non-profit Parley for the Oceans and to raise awareness of marine plastic pollution, the wall is made of rubbish littered on the iconic beach during a three-day period.
Apple has documented the environmental impact of its "Daisy" recycling robots for the first time, revealing that they processed around one million iPhones during their first year of operation.
Unilever-owned condiment brand Hellmann's has pledged to switch to 100% recycled plastics for its squeeze bottles and mayonnaise jars sold within the US by 2020.
Princes is increasing the post-consumer recycled (PCR) content of its plastic shrink wrap packaging lines to 50%. The transition will be complete by the end of 2019, with Princes set to reduce its annual virgin plastics use by up to 1,000 tonnes.
MOBILITY:

Sainsbury's adds fully electric vans to its customer delivery fleet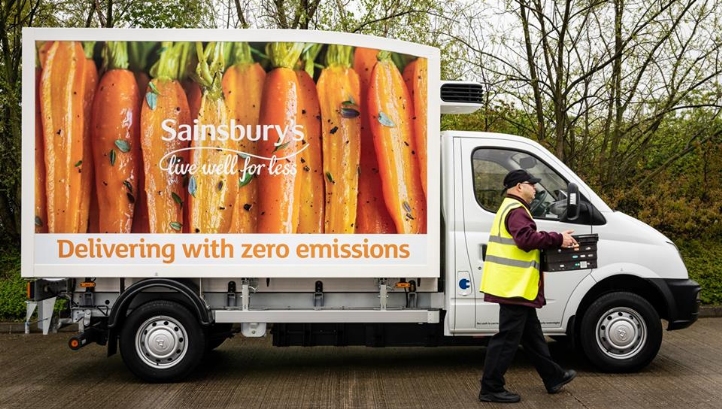 Since the Ultra-Low Emission Zone (ULEZ) launched in London earlier this month, electric vans have become something of a hot topic, with nine new organisations joining Global Action Plan's Clean Van Commitment and Milk & More pledging to add 160 additional pure-electric vans to its delivery fleet during May.
This week saw supermarket Sainsbury's unveiled 'Evie' – its first fully electric van for delivering online customer orders to their homes. The vehicle, which has a range of around 80 miles per full charge and is able to carry the same weight as its diesel predecessors, will be making deliveries across London from Sainsbury's Online Fulfilment Centre in Bromley-by-Bow and re-charging there overnight. 
A second van, dubbed 'Stevie', will be added to the east and central London delivery fleet during May. If these two vehicles prove successful, Sainsbury's will develop plans to order additional zero-emission vans to cover more of its urban Sainsbury's Online catchment areas.
"We're always looking at how we can use the latest innovations to best serve our customers, and this trial will help us explore how we can deliver Sainsbury's groceries in a more environmentally friendly way," Sainsbury's Group's chief digital officer Clodagh Moriarty said.
In related news….
A project to electrify train lines in Wales using community-owned solar and storage facilities has received a £110,000 grant from the Rail Safety and Standards Board.
Ferry operator Fullers360 and boat builder McMullen and Wing have partnered in a bid to bring fully-electric ferries to Auckland Harbour, New Zealand, by 2021.
THE BUILT ENVIRONMENT:

Skanska receives WELL certification from Prague offices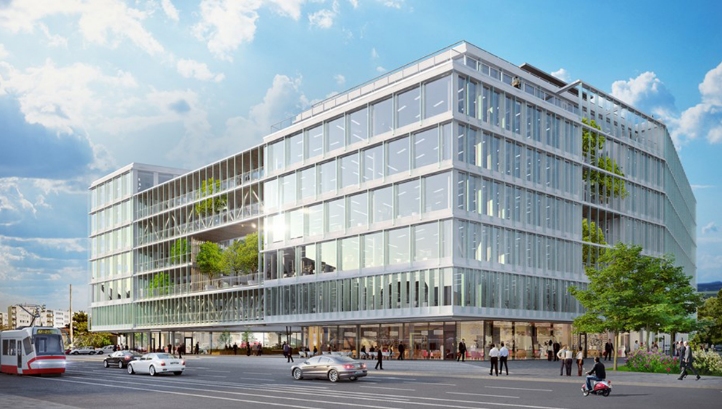 After recently starting work to expand its LEED-certified headquarters in Budapest, Swedish construction firm Skanska this week received WELL Core certification for its 'Visionary' block in Prague, making the building the first in the Central and Eastern Europe (CEE) region to receive the accolade. 
In order to receive WELL Core accreditation, an organisation must prove that their building has been designed, and operates, with the wellbeing of the planet and the people who use it in mind. WELL uses ten metrics – air, water, nourishment, light, movement, thermal comfort, sound, materials, mind and community – to complete its assessment. To date, the standard has been applied to 1,622 projects across 50 countries, collectively covering more than 249 million sqft. 
"From a business perspective, a WELL-certified workplace provides significant advantages for both its tenants and investors alike," Skanska Commercial Developments' head of divestments for CEE Adrian Karczewicz said. 
"WELL-certified buildings are a truly future-proof investment, and consequently, WELL certification will become a must on the commercial real estate market over the coming years."
To find out more about sustainable workplaces, you can download edie's free Green Offices guide, produced in association with Commercial Group, here. 
BUSINESS LEADERSHIP:

KFC's parent company commits to setting science-based emissions targets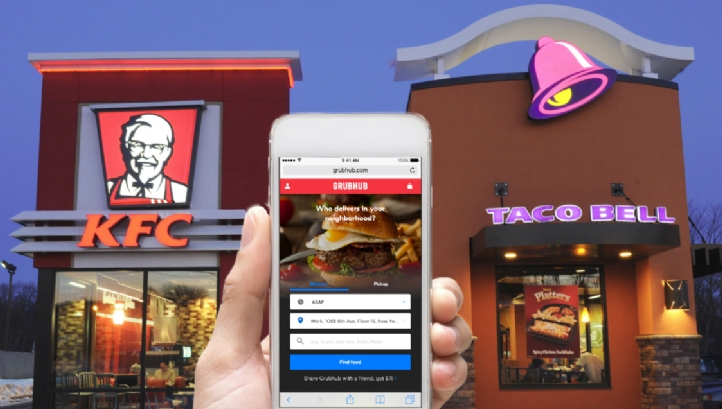 Amid Extinction Rebellion protests in London and school strikes for climate across the world, calls for businesses and governments to align with the Paris Agreement's 2C or more ambitious 1.5C trajectory are reaching a fever pitch.
One company which has taken heed of this message is Yum! Brands – the owner of fast-food chains such as Pizza Hut, KFC and Taco Bell – which last week publicly pledged to up its renewable energy ambitions and develop approved science-based emissions targets for its Scope 1, 2 and 3 emissions. The announcement came after the firm's investors voted against the adoption of a shareholder resolution which would have required the company to make these moves by law.
"As Yum! grows as a business, we aim to do so in a way that respects the planet," Yum! Brands' vice president for sustainability Jon Hixson said.
"To continue on this journey across our brands, franchisees and suppliers, our study will initially evaluate our greenhouse gas (GHG) data to better understand our footprint, which will help refine GHG reduction targets and identify emission reduction initiatives, such as renewables and conservation measures."
In related news….
Newspaper The Guardian is set to include CO2 levels in its weather page every day, following a string of studies linking carbon emissions to extreme weather events such as heatwaves. The publication will use the Mauna Loa carbon count, the global benchmark.
Sarah George